For even the Son of Man came ... to serve. Matthew 20:28
FHBC emphasises a "priesthood of believers" model of ministry, seeing each believer within the church as integral to the whole - each providing encouragement, accountability, admonishment, and support to one another. From within this context, a group of appointed, qualified, and gifted elders oversee and lead the vision and spiritual needs of the church body. To accompany the elders, a board of deacons and
deaconesses assist by leading, addressing needs, and supporting the function of the church ministry. Hired staff also serve the needs of the ministry (some function within the role of elder/pastor and some do not). All FHBC members are encouraged to volunteer their time, talents, resources, and energy to support the needs of the church family. FHBC believes that as each one serves, they also grow!
Director of Pastoral Care | Elder
Rick has served in this role for over 33 years. He is also the Executive Director of Covenant Ability Network of Michigan, on the board of Rest Haven Homes, and is an emeritus board member at Bair Lake Bible Camp. Rick and his wife of 44 years, Cheryl, have four children and 9 grandchildren. When he is not spending time with his family, Rick enjoys watching football and reading.
I grew up on the west coast in Canada where I earned a Bachelor of Arts degree in English language. Aside from the fact that I speak English every day, this is not helpful in my role as custodian, but it does help me in the homeschool classes I teach. I have lived here in Grand Rapids since 2005 and have enjoyed hiking in the area, seeing some of the popular travel destinations with my family, and hanging out in local bookstores. My family has attended FHBC since our arrival in Grand Rapids, with a brief stay in Pennsylvania, and the church body has reached out to become an extended family for us. I am glad that this position as custodian is another way for me to model service to my two boys.
Director of Ministries | Elder
Since 2018, Chester (Steven) has served as full-time staff pastor, "Director of Ministries" at FHBC. He attended Cedarville University (engineering), Grand Rapids Theological Seminary (MDiv), and served on staff at the Holland Rescue Mission. Chester and his wife, Jenelle have lived in the west Michigan area since 2002 where they have been blessed with 3 wonderful children.
Children's Ministry Coordinator
I grew up at Forest Hills Bible Chapel, a child of deeply involved parents. My desire to care for others led me to earn a Bachelor of Social Work degree from MSU. My love for a guy from FHBC, Brian, led me to marry him after school. Our family of six loves to read, camp, bike, sled, and play board games. I'm the oddball that loves to organize, check off to-do lists, and create excel spreadsheets: a good fit for my role at the Chapel! It is a privilege to be a part of a team that works together to love your children well and faithfully teach them about the truth of God's word and the love of Christ.
Communication Coordinator
Emily has attended FHBC her whole life. She is thankful for the opportunity to be involved in the chapel by serving as the Communications Coordinator. Currently, Emily is a senior at Cornerstone University studying pre-Physical Therapy with plans of attending grad school in the fall of 2021.
Children's Ministry Coordinator
Hi, I'm Katie! I grew up in Forest Hills and earned my degree from Aquinas College in Elementary Education, Learning Disabilities K-12 and Early Childhood education. My family and I love to camp, hike, bike and anything else outdoors where we can take in God's creation! I am so thankful that the Lord led my husband and me to FHBC where we have always felt like part of a family that supports us spiritually and helps us raise our four children to grow in knowledge and love for Jesus.
We'd love to hear from you! Visit our contact page using the button above to get in touch with our staff or elders.
Paul Brinkerhoff is an editor and publishing consultant for Grace and Truth Communications. Born in New Jersey, he and his family moved to Michigan where he grew up at Forest Hills Bible Chapel. He attended Michigan State University (BA) and Grand Rapids Theological Seminary (MDiv). Paul enjoys working with children and interacting with adults. He and his wife, Beth, and their five children live in Grand Rapids.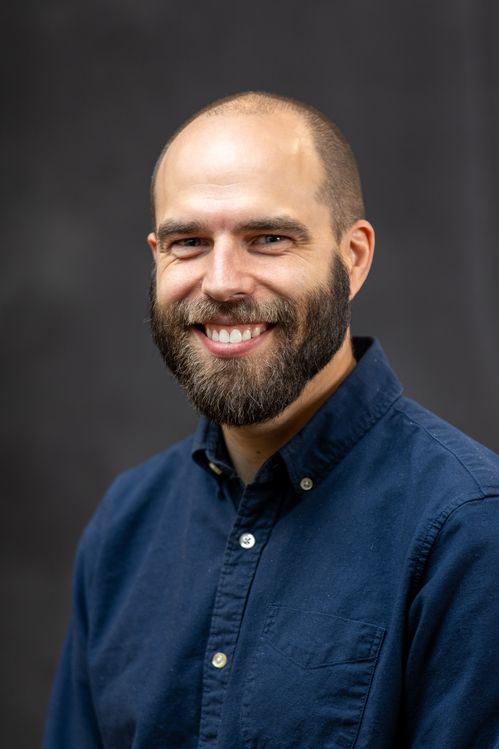 It would be hard to overstate the role of the Chapel in Brian's life. He has been a member since birth, met his now-wife, Sarah, in the nursery, and has no idea what his life would look like absent the investment that so many spiritual "Uncles and Aunts" made in him over the years. It is his privilege to serve such an amazing body as an elder and his and Sarah's joy to see their four kids learning to obey all that Jesus commanded us.
Tom and his wife Lynn have three sons, two daughters-in-law, and two Chinese "sons" who have been part of his family for many years. When not serving at Our Daily Bread Ministries as the executive editor, you might find Tom spending time with his family, serving with people and music at FHBC, serving at Upper Peninsula Bible Camp in Michigan's beautiful north, or enjoying the great outdoors.
Dean Ferris and his wife Annette are the parents of four children and grandparents of three - enjoying the stewardship and investment in future generations. He serves a number of individuals, couples and organizations through teaching, discipleship, mentoring and advising. He is also serving as the Chief Growth Officer for HealthBridge Financial Inc. and enjoys spending time in the outdoor beauty of Northern Michigan.
Chad Furness has served as an elder at Forest Hills Bible Chapel since 2017 where he and his wife Meredith have attended since 2005. He is blessed to be a homeschooling father to five wonderful kids where his roles include being a science teacher and a basketball coach. After 20 years of private practice, he now works as a medical physician at Pine Rest Christian Mental Health Services.
Paul is married to Sue and they have 3 adult kids and 10 grandchildren, who live in Grand Rapids, Texas and California. They both graduated from Michigan Technological University, and Paul graduated from Trinity Evangelical Divinity School (MDiv). They moved to Grand Rapids in 1978, where they have worked and raised their family. Together, they serve the Lord at Forest Hills Bible Chapel.
Jason literally grew up at FHBC having lived next door from age three to twenty. Through opportunities and relationships at the Chapel he learned to serve, lead, and teach; and he met his wife! Jason's current Chapel involvements include missions, youth and men's ministry, occasional preaching, and he is honored to serve as an elder. He and his wife Sarah have 5 living children and live in Grand Rapids.
Roger is married to Patty and has two adult children and one granddaughter. He graduated from Hope College and Grand Rapids Theological Seminary (MDiv). He works as a web and mobile app developer. Roger and Patty have been attending and serving at Forest Hills Bible Chapel for the last 10 years and they appreciate the chapel family for walking with them through every mountain and valley.